As you may know, for Spring Break this year, we went to California. We had a great time! I thought that I would tell everyone about the trip.
We started out last Friday, the thirty-first of March at the smaller of the two terminals here at Minneapolis/St. Paul Airport. We were bound for San Diego, CA. We got in to town to find a pleasant array of palm trees. We soon arrived at our hotel, only to find that it was time to fall asleep.
We got up on Saturday morning and went to The San Diego Zoo, my brother's favorite attraction. He is a true animal fan. First, we took a bus tour of the zoo. Then, we walked around and some of the animals that we missed. Next, we went to the giant panda exhibit. The San Diego Zoo is known around the world for its collection ofgiant pandas. We stood in a long line, and got our chance to see the giant pandas, eating their bamboo. That was most of our Saturday.
On Sunday, we traveled to a church in Solana Beach, CA, and attended a worship service. Our current pastor preached there in the 70's. From there, we hit the beach! We stopped at many beaches between San Diego and Los Angeles. Most of the beaches were quick five-minute stops. We did stop in Oceanside for an hour or two, though. We ate lunch at an interesting McDonalds and sat out on the beach for a little while. We found our beds in Anaheim later that evening.


The next day, Monday, was set aside for Disney World.
My brother and I got to meet Mickey Mouse, after winding through his "house." We toured the rest of the Disneyland Magic Kingdom park and then headed back to our hotel. They gave us a free dinner of salad and baked potatoes. That was kind of nice.
Tuesday was a hard day. We spend much of our time in traffic. We went up to the Pasadena, CA area (other side of LA.) We spent time in traffic. We got to see the Rose Bowl parade route and where my mom and her family lived when she was young. This was sort of cool. After that, we had to go back to our hotel in Anaheim to search for my dad's sunglasses that he lost. We later found them in a Target bag in the trunk of the car. We spent the remainder of the day in traffic. We eventually got out to the desert, eighty miles away.
Wednesday was pool day. We stayed Tuesday and Wednesday night at The Desert Hot Springs Spa Hotel [site takes time to load], home of eight swimming pools. Of course, we had to try out each pool. They were HOT! It was hard to do laps, but nice as the winds were howling and it was raining much of the day. Minneapolis was only two degrees cooler on this day! In addition to the pools, the place had a restaurant and a gift shop, with the 60's decor that my parents remember.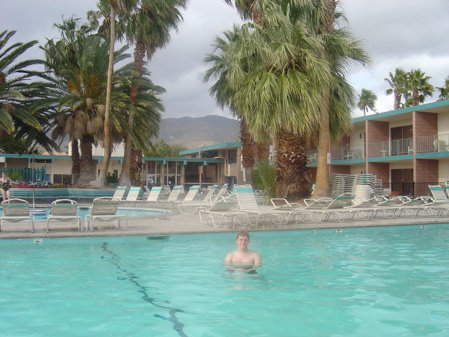 Thursday was our final day in California. We left Desert Hot Springs and traveled back in to San Diego. We hopped aboard the USS Midway, an aircraft carrier now transformed into a museum. This was interesting.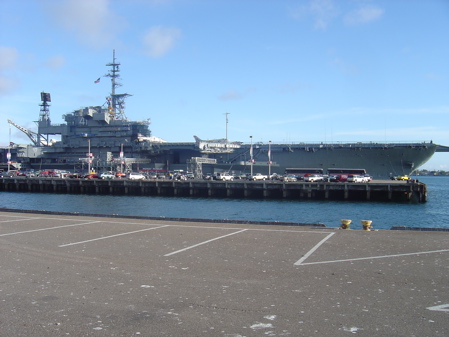 Late in the day, we found the Sun Country plane that we were to take home, and a few hours later were sleeping in our beds at home.

We had a great time!!