Now that I am home for Christmas vacation, I have had some time to observe the "bird" feeder that my dad began to fill this fall. Everyone enjoyed viewing the birds that dropped bye when we filled the feeder last fall, especially the cardinals.
We thought our squirrel problems were over when my Aunt Ramona and Uncle Tim gave us a squirrel-proof feeder a couple of years ago. The feeder will close when a heavy animal trips the weight sensor. It has helped some, but it has not prevented squirrels from eating from beneath the feeder and jumping or climbing on the feeder, which have been big problems this year.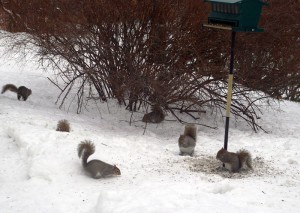 We have two squirrels who are special problems. One squirrel, is an absolute pig who we named "Tubby." He sits beneath the feeder and eats frantically from sunrise to sunset and tries to scare the other squirrels and birds away. Another squirrel, who we call "Engineer Squirrel" jumps up on the feeder frequently, trying to get access to the big supply. He has not been that successful, however, as "Tubby" usually scares him away when he tries to climb the pole. He has tried jumping from a nearby tree, but my dad has cut some branches to make that route less feasible.
Our Aunt Ramona reports that she is using a squirrel feeder to keep the squirrels away from the bird feeder.
We don't want to have to feed to piggy squirrels to feed the cardinals. Currently, the cardinals are often too scared to come to our feeder, as the are outnumbered by squirrels and other small birds.
We are contemplating trapping the squirrels and moving them, but that doesn't sound like fun, either.
What do you think we should do about our squirrel problem?